Programs for Fall 2021
Thanksgiving Break 2021 schedule
Sunday, Nov. 21: ONE MASS ONLY at 10:30 a.m. at the Catholic Center
Mass will be live-streamed on our YouTube page, SU Catholic Center.
All weekly programming for this week of Nov. 21 is suspended, including Wednesday Mass and Thursday Night Mass and dinner. Our regular schedule will resume on Sunday, Nov. 28 with both the 10:30 a.m. and 1 p.m. Masses.
Mass Schedule
Sunday

10:30 a.m. – Catholic Center
1 p.m. – Hendricks Chapel
Please note our 1 p.m. Mass will be livestreamed on our YouTube page, SU Catholic Center. Mass will be posted to our Facebook Page, SU Catholic, at the conclusion of Mass.
Wednesday

12:10 p.m. "20-minute" Mass – Hendricks Chapel

Thursday

7 p.m. Mass followed by community dinner at the Catholic Center.
Confession and/or meet with Fr. Gerry for Confidential Conversation
Tuesdays and Thursdays 2 – 4 p.m. – Hendricks Chapel
Wednesdays 1:30 – 2:30 p.m. – Catholic Center
OR by appointment at the Catholic Center
We will continue to offer our regular Wednesday & Thursday Scripture reflections on our Instagram/Facebook/YouTube pages.
Small Faith-Sharing Groups
Are you searching for a welcoming community on campus?! Look no further than our small groups! These groups are student-led and are designed to help you deepen your faith and grow in connection to Jesus and one another! The small groups are held weekly in a variety of locations on campus and will do the following: discuss life and faith, reflect on Scripture passages and pray with one another! If you are interested in learning more about small groups or want to sign up, please email Campus Minister Jeremiah Deep, jedeep@syr.edu.
About
The SU / SUNY ESF Catholic Campus ministry at the John J. Alibrandi Catholic Center offers a rich, vibrant ministry. Our mission is to build a strong community that is completely accepting, inclusive and bound together, regardless of race, ethnicity or sexual orientation, by God's universal love. We demonstrate that love through the celebration of the sacraments, small faith-sharing groups, fellowship, volunteer service, music and social action.
We seek with all that we do to provide a welcoming, fun and loving place for people to express their faith, to know that they are not alone and to discover the love that Jesus has for them.
Our events, which occur at the Catholic Center (110 Walnut Place, across from the Whitman School of Management) unless otherwise indicated, are open to all.
Also, the Catholic Center has study spaces (library and Great Room) and prayer spaces which could serve as an oasis for quiet meditation, focusing on mindfulness and centering on the Lord.
Contact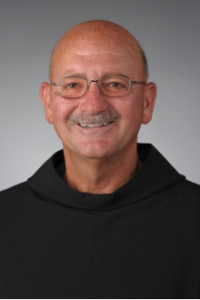 Fr. Gerry Waterman, OFM Conv., Roman Catholic Chaplain
fwaterma@syr.edu
Jeremiah Deep, Campus Minister
jedeep@syr.edu
The Catholic Center
110 Walnut Place (corner of Adams and Walnut)
315.443.2600
sucatholic.org