The Hendricks Chapel Food Pantry is stocked with food and personal care items, available at no cost to all students with valid Syracuse University or SUNY ESF ID.
To Access the Food Pantry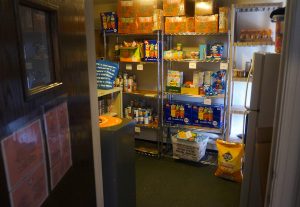 Both Hendricks Chapel Food Pantry locations—in Hendricks Chapel and on South Campus—are open. Students are encouraged to visit the food pantries during scheduled hours, where they will receive a prepackaged bag of food, fresh produce and personal care items. Visitors looking for a specific item can ask for assistance.
Summer 2021 Hours
Hendricks Chapel, located in the lower level 
Tuesdays and Thursdays: 10 a.m.-12 p.m.
Fridays: 2:30 p.m.-4:30 p.m.
South Campus, located at the Carriage House (161 Farm Acre Road)
Wednesdays: 1-4 p.m.
Parking is available outside the Carriage House or visit the Campus Shuttle schedule for other transportation options.
Fresh vegetables are available in the Hendricks Chapel Food Pantry now! Learn more about Pete's Giving Garden, the garden on South Campus that grows produce for the pantries, in this Syracuse University News article.
How to Support the Pantry
Hendricks Chapel relies on the generous donations from the Syracuse University community to stock the food pantry.  Ways to support the food pantry include:
Donating food or personal care items.  Physical donations may be dropped off at the Hendricks Chapel Dean's Suite. Items may also be ordered through our Amazon Wish List, which ships items directly to the pantry. All are encouraged to donate to the Food Pantry Support Fund.
Holding a food and toiletry drive.  Student groups, residence hall floors, offices and departments can hold food and toiletry drives to benefit the food pantry. Reach out to Syeisha Byrd to learn how you can "Adopt-A-Month" for the pantry!
Volunteering at the food pantry.  Volunteers are needed to stock and organize the pantry, assist with fresh produce deliveries on Fridays and answer questions for vistors.  To volunteer, please contact Syeisha Byrd, 315.443.1254 or smbyrd@syr.edu.
Contact
Syeisha Byrd
315.706.4526
smbyrd@syr.edu