The Ester Drake and John Vincent Malmgren Concert Series has been made possible by a generous gift from Syracuse University alumna Ester Malmgren to Hendricks Chapel in 1991. The series offers the Syracuse community the highest quality of arts at no cost. The series typically includes three-to-four concerts each year at Hendricks Chapel, many of which feature the organ, Ester Malmgren's favorite instrument.
Spring 2023 Programs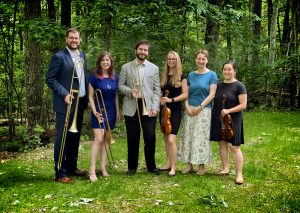 Feb. 19
EXILE — Malmgren concert featuring Incantare
Incantare explores music of the early modern Jewish diaspora in this program for vocal soloists and baroque instruments. EXILE explores the influences of Italian, German, and eastern European music and Jewish culture, highlighting Jewish musicians, the non-Jewish composers they influenced, and composers who inspired innovations in Jewish composition. Featuring composers such as Salamone Rossi, Mutio Effrem, Giovanni Battista Buonamente, Claudio Monteverdi, and others, this program highlights the mutual influences of the early modern European Jewish experience, breaking down preconceptions of Jewish music and culture and exploring the implications of diaspora on Jewish artistic legacy. The Hendricks Chapel Choir will make a cameo appearance on this program. For more info, view their website.
Mar. 5
Malmgren concert featuring Jason Max Ferdinand Singers
One of the most sought-after choral ensembles in the nation, the Jason Max Ferdinand Singers are known for their exceptional artistry and passionate commitment to using music as means to healing and community building. A typical concert includes music from Bach to contemporary African-American spirituals. Led by Jason Max Ferdinand, a native of Trinidad & Tobago, this group showcases the nation's top talent. For more info, view the Jason Max Ferdinand Singers' website!

Mar. 26
Malmgren concert featuring Sacred Jazz with Deanna Witkowski
Hailed by Jazz Journal International as "one of the best of the new generation of jazz piano players," Deanna Witkowski is a rising star on the jazz scene. A leading authority on the music of jazz legend Mary Lou Williams, Witkowski has curated a program of sacred jazz featuring her trio and the Hendricks Chapel Choir.  For more info, view  Deanna's website.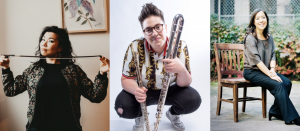 Apr. 9
Malmgren concert featuring Kozasa, Gleicher, and Kim Trio
New York City-based artists Ayane Kozasa (viola), Isabel Lepanto Gleicher (flute), and Adrienne Kim (piano) bring their innovative and dynamic music-making to this program of contemporary chamber music that explores how artists create message and meaning through the non-verbal art form of instrumental music. These three amazing women performers are very active in the new music scene, having performed and premiered numerous works by living and underrepresented composers with elite music ensembles in New York City. This program features works for flute, viola, and piano composed by Alvin Singleton, Ilari Kaila, Isabel Lepanto Gleicher, and Syracuse University faculty composer Nicolas Scherzinger.  Scherzinger's work, "Escape the Echo Chamber" is influenced by philosopher C. Thi Nguyen's recent work on games and gamified systems, particularly social structures that systematically exclude sources of information, for example, when we don't trust people from the other side, or when we don't even hear people from the other side.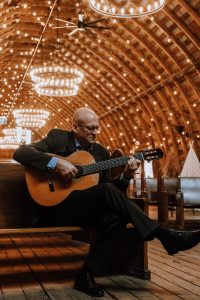 Apr. 30
Malmgren concert featuring guitarist Ken Meyer
Hailed by the Washington Post as playing "with impressive gravity and power," classical guitarist Ken Meyer is a national prize-winner and beloved instructor at the Setnor School of Music. Known for his commitment to new music, Meyer has graced leading concert stages in the U.S., Canada, Europe, and South America. Meyer will be joined by his Setnor School of Music faculty colleagues Will Knuth (violin) and Anne Laver (organ).
Malmgren concerts are special installments of Music and Message.
The Malmgren Concerts are special installments of Music and Message. Join us for additional programs throughout the year!
Please note that on-campus events are subject to public health conditions and CDC guidelines. For the latest information relevant to campus, please visit the Stay Safe website.
Follow us on social media @HendricksChapel to stay up-to-date on announcements and details!
Parking
Parking is available in Quad Lot and Irving Garage. Visit parking.syr.edu for more information.
Accessibility
Communication Access Real-time Translation (CART) and captioning will be provided. For more information or to request accommodations, contact Hendricks Chapel at 315.443.2901 or chapel@syr.edu.