Matters That Matter, a conversation series from Hendricks Chapel, is a virtual series hosted by Hendricks Chapel that brings local, national, and global thought leaders together in conversation with Dean Brian Konkol to discuss critical matters facing society.
Participants have called these conversations "thoughtful and insightful" and hailed them as "great, positive, clear discussions."
All conversations begin at 7 p.m. on Hendricks Chapel's Facebook page and on Zoom. The Zoom webinar link is the same for all conversations. Pre-registration is not required, and the conversation is free and available to all.
Past Conversations Link
Matters That Matter: Father James Martin, SJ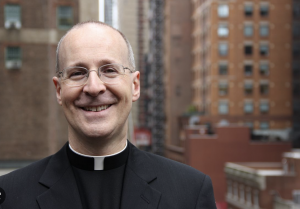 Rev. Brian Konkol, dean of Hendricks Chapel, will be in conversation with Father James Martin.
REV. JAMES MARTIN, SJ, is a Jesuit priest, editor at large of America magazine, and bestselling author of Jesus: A Pilgrimage, The Jesuit Guide to (Almost) Everything, and Between Heaven and Mirth. Father Martin has written for many publications, including the New York Times and The Wall Street Journal, and he is a regular commentator in the national and international media. He has appeared on all the major radio and television networks, as well as in venues ranging from NPR's Fresh Air, FOX's The O'Reilly Factor, and PBS's NewsHour to Comedy Central's The Colbert Report. Before entering the Jesuits in 1988, Father Martin graduated from the Wharton School of Business and worked for General Electric for six years. In 2017, Pope Francis appointed him to be a Consultor for the Vatican's Secretariat for Communication.
Father Martin is the author of several award-winning books. Between Heaven and Mirth: Why Joy, Humor, and Laughter Are at the Heart of the Spiritual Life, (HarperOne, 2011), was named as one of "Best Books" of 2011 by Publishers Weekly. Father Martin is also the author of: The Jesuit Guide to (Almost) Everything: A Spirituality for Real Life, My Life with the Saints, Seven Last Words; The Abbey; Jesus: A Pilgrimage; Together on Retreat: Meeting Jesus in Prayer; Becoming Who You Are: Insights on the True Self from Thomas Merton and Other Saints; Searching for God at Ground Zero(Sheed & Ward: 2002); In Good Company: The Fast Track from the Corporate World to Poverty, Chastity, and Obedience(Sheed & Ward: 2000, 2010); and This Our Exile: A Spiritual Journey with the Refugees of East Africa (Orbis: 1999, 2009). He is the winner of a Catholic Press Association award. He is the editor of Celebrating Good Liturgy (Loyola, 2005); Awake My Soul: Contemporary Catholics on Traditional Devotions (Loyola, 2004); and How Can I Find God?: The Famous and the Not-So-Famous Consider the Quintessential Question (Liguori, 1997, 2004); and co-editor, with Jeremy Langford, of Professions of Faith: Living and Working as a Catholic (The Come & See Series) (Sheed & Ward: 2002). His books have been translated into Spanish, German, Portuguese, Polish, Chinese, Korean, Hungarian, Lithuanian and Slovenian. His DVD "Who Cares about the Saints?" was released by Loyola Press in 2009, and many of his talks and lectures are available on the web.
Rev. Nontombi Naomi Tutu
Rev. Nontombi Naomi Tutu, world-renowned advocate for truth and reconciliation, is a past  guest for "Matters that Matter: A Conversation Series from Hendricks Chapel."
She and Hendricks Chapel Dean Brian Konkol discussed healing as individuals and as a society, exploring South Africa's Truth and Reconciliation Commission as a contemporary guide for hope and healing.
About Rev. Nontombi Naomi Tutu
Tutu is the daughter of South African anti-apartheid activist and 1984 Nobel Peace Prize laureate Archbishop Desmond Tutu. She was educated in Swaziland, the United States and England, and has served in various capacities throughout her adult life between South Africa and the United States.
Her professional experience ranges from economic development consultancies in West Africa, coordination of programs on race and gender, as well as gender-based violence prevention education at the African Gender Institute at the University of Cape Town. In addition, Tutu has taught at the University of Hartford, University of Connecticut and Brevard College in North Carolina. She served as program coordinator for the historic Race Relations Institute at Fisk University and was a part of the Institute's delegation to the World Conference Against Racism in Durban, South Africa.
As well as preaching and teaching, Tutu has established Nozizwe Consulting, which brings different groups together to learn from and celebrate their differences and acknowledge their shared humanity. As part of this work, she has led Truth and Reconciliation Workshops for groups dealing with different types of conflict.
Rev. Tutu is the recipient of four honorary doctorates from universities and colleges in the United States and Nigeria. She is an ordained clergyperson in the Episcopal Church. She is the associate rector of All Saints Episcopal Church in Beverly Hills, California.