"Music and Message" is the popular weekly series from Hendricks Chapel that features musical performances and spoken reflection from diverse religious and spiritual perspectives. These gatherings seek to nurture the soul and ignite the spirit, and we invite all students, faculty, staff, and community members for another season of inspiration.
All are welcome to join us in Hendricks Chapel! Or experience this program online via the Hendricks Chapel YouTube channel. All programs will be streamed live and may be available on the channel for later viewing.
Sundays at 4 p.m.
Mar. 26
Malmgren concert featuring Sacred Jazz with Deanna Witkowski
Hailed by Jazz Journal International as "one of the best of the new generation of jazz piano players," Deanna Witkowski is a rising star on the jazz scene. A leading authority on the music of jazz legend Mary Lou Williams, Witkowski has curated a program of sacred jazz featuring her trio and the Hendricks Chapel Choir.  For more info, view  Deanna's website.
Apr. 2
Setnor Baroque Ensemble Concert
Join us for a program of 17th and 18th-century music performed by Setnor School of Music faculty and students. The Hendricks Chapel Choir performs Orlando di Lasso's "Recordare Jesu pie."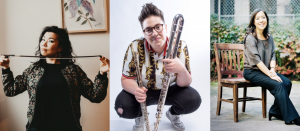 Apr. 9
Malmgren concert featuring Kozasa, Gleicher, and Kim Trio
New York City-based artists Ayane Kozasa (viola), Isabel Lepanto Gleicher (flute), and Adrienne Kim (piano) bring their innovative and dynamic music-making to this program of contemporary chamber music that explores how artists create message and meaning through the non-verbal art form of instrumental music. These three amazing women performers are very active in the new music scene, having performed and premiered numerous works by living and underrepresented composers with elite music ensembles in New York City. This program features works for flute, viola, and piano composed by Alvin Singleton, Ilari Kaila, Isabel Lepanto Gleicher, and Syracuse University faculty composer Nicolas Scherzinger.  Scherzinger's work, "Escape the Echo Chamber" is influenced by philosopher C. Thi Nguyen's recent work on games and gamified systems, particularly social structures that systematically exclude sources of information, for example, when we don't trust people from the other side, or when we don't even hear people from the other side.
Apr. 16
Setnor Chamber Music Concert
Setnor School of Music students present their end-of-semester concert featuring music for strings, piano, and more.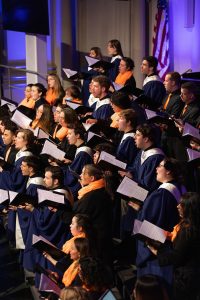 Apr. 23
Hendricks Chapel Choir tour preview concert
The Hendricks Chapel choir presents a festive concert featuring music they will take on their May 2023 tour to London, Edinburgh, and Lockerbie. The program includes music for choir and organ by Judith Weir, Craig Phillips, Elaine Hagenberg, Undine Smith Moore, and Paul Simon, among others.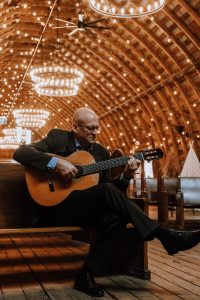 Apr. 30

Malmgren concert featuring guitarist Ken Meyer
Hailed by the Washington Post as playing "with impressive gravity and power," classical guitarist Ken Meyer is a national prize-winner and beloved instructor at the Setnor School of Music. Known for his commitment to new music, Meyer has graced leading concert stages in the U.S., Canada, Europe, and South America. Meyer will be joined by his Setnor School of Music faculty colleagues Will Knuth (violin) and Anne Laver (organ).
May 7
Blessing of Students
In honor of the students at Syracuse University, and to commemorate the conclusion of the spring semester and celebrate the graduating Class of 2023, the chaplains and staff of Hendricks Chapel will host a "Blessing of Students." This program includes musical performances by the Hendricks Chapel Choir, spoken reflections, and special recognition of graduates who contributed to the Hendricks Chapel mission of "leading in service to the common good through religious, spiritual, moral, and ethical life."
All are welcome to join us in Hendricks Chapel! Or experience this program online via the Hendricks Chapel YouTube channel. All programs will be streamed live and will be available on the channel for later viewing.
Parking
Parking is available in Quad Lot and Irving Garage. Visit parking.syr.edu for more information.
Accessibility
Communication Access Real-time Translation (CART) and captioning will be provided. For more information or to request accommodations, contact Hendricks Chapel at 315.443.2901 or chapel@syr.edu.
Past Programs
Recordings of Past Programs can be found on the Hendricks Chapel Facebook page.
---
Presented with support from the Malmgren Fund and the Hendricks Chapel Dean's Discretionary Fund.