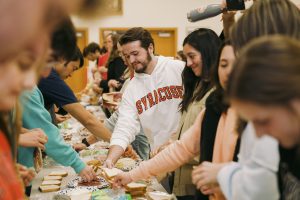 Hendricks Chapel is home to all student religious and spiritual groups on campus. These groups span a wide range of diverse religious traditions and spiritual interests. Participation in religious groups is open to all students.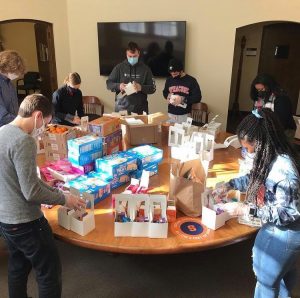 While each religious group serves a particular faith constituency, the religious groups work together as part of the Student Assembly of Interfaith Leaders (SAIL). Their mission is to be the greenhouse for leaders of all backgrounds, and the incubator for leaders of all future promise.
All religious groups support and live out the Hendricks Chapel Ethical Framework that calls upon each chaplaincy and religious group to honor the religious freedom, human dignity, conscience, personal spiritual welfare, and the religious tradition of every person to whom they minister. Each group is also held to the standards of the Policies for Religious and Spiritual Life Groups, which shape the way student groups are organized and engaged.
Information about each student religious group is available through their website or social media accounts. For questions and more information, email chapel@syr.edu or call 315.443.2901.
Chaplain JoAnn Cooke is the spiritual advisor to Quaker and Atheist students. Contact her at jmcooke@syr.edu to learn more or for support.
Adventist Christian Fellowship
Adventist Christian Fellowship provides Bible-based spiritual fellowship and mentoring for all students, staff, and faculty who are seeking a closer walk with God. Through friendship, outreach, and campus service, the fellowship shares its love in the community. Our fellowship nurtures students and provides them with a home away from home.
Contact:
Weekly Meetings:
Alpha Phi Omega
Alpha Phi Omega is a national co-educational service fraternity based in the principles of leadership, friendship and service. The SU/ESF chapter seeks to set the standard for college campus-based volunteerism. APO strives to help each member develop leadership skills, secure lasting friendships, and provide service to others.
Contact:
For more information about our chapter, visit the APO website.
Baha'i Student Club of Syracuse University
The Baha'i Faith is an independent world religion. Its more than 5 million adherents in more than 200 countries and territories in the world follow the teachings of Bahá'u'lláh, Prophet-Founder of the Baha'i Faith, such as the oneness of God, the essential unity of the world's major religions, and the oneness of mankind.
Contact:
For more information, visit the Baha'i Faith website.
Weekly Meetings:
Bible Study Ministries
Our mission is to support Chinese students at Syracuse University by helping them with their transition to American culture and providing an opportunity for them to learn about Christianity in a culturally appropriate context.  We also seek to encourage students toward a balanced academic and social experience during their years of attendance at Syracuse University.
We meet on Friday evenings to share an authentic Chinese meal, worship God, listen to his Word and share in discussions about life and faith.
Contact:
For more information, like the Bible Study Ministries on Facebook.

Weekly Meetings:
Brothers And Sisters In Christ All Nations
Brothers And Sisters In Christ brings together brothers and sisters in Christ from all nations, denominations, churches and campus groups at Hendricks Chapel for joint worship and intercession for personal and campuswide revival. By God's grace, we have experienced many breakthroughs and have continued non-stop for more than four years even through campus breaks and winter storms!
Contact:
Bridge
Bridge is a Christian ministry that forms friendships through lunches and conversation.

Bible Study and Dinner
Wednesdays
6:30pm to 8pm
Noble Room at Hendricks Chapel
Friendship Lunches
Thursdays
12pm to 1:30pm
Noble Room at Hendricks Chapel
Enjoy a free lunch and conversation.
Buddhist Meditation Association
Contact:
Learn more with this introductory video from BMA President, Rosalie Turner '23 (SUNY-ESF)!
Don't forget to sign up for weekly newsletter at eepurl.com/hbJBz5 or check us out on our CampusLabs page.
Weekly Meetings:
The Buddhist Meditation Association meets every Sunday from 6:30-7:30 p.m. in the Small Chapel for meditation, tea, and discussion.  On the first Sunday of each month, all are welcome to an open BMA Club meeting.
Led by senior practitioners, Zen Center of Syracuse, and by experienced students.
No experience necessary, all faith traditions welcome.
Also visit the Zen Center of Syracuse, 266 W. Seneca Turnpike, www.zencenterofsyracuse.org. For program schedule, call 315.492.9773.
Campus Bible Fellowship
Biblical counseling available. Individual Bible study, special events, transportation to church and other Bible studies also available.
Contact:
Weekly Meetings:
Thursdays from 7 to 8:30 p.m. in Hendricks Chapel, Small Chapel, lower level
Campus Connect
Campus Connect, along with the Lutheran Chaplaincy, provides opportunities to get involved in the Syracuse community, particularly with refugee and other underserved populations. Students engage in fun team-building activities and club dinners.
Contact:
For more information, visit the Lutheran Campus Ministry website.
Catholic Association at Syracuse University
The Catholic community at Syracuse University/SUNY ESF works with the Roman Catholic chaplaincy to coordinate activities that promote a safe haven for all students of faith while educating them on how to live their beliefs in a college environment. Please join us at Masses or in the small groups to become an integral part of our community.  Gatherings are held at the University's Catholic Center, 110 Walnut Place, or Hendricks Chapel.
We also have service, opportunities, retreats and community-building events. Check out the SU Catholic website for more details or to sign up.
Chabad House Jewish Student Center
"The warmest place away from home."
Chabad House Jewish Student Center serves Syracuse University and the campuses of Central New York, with religious services, educational and social programming. "Have Shofar, will travel," Sukkah Mobile, Simchat Torah Dancing, Giant Traveling Chanukah Menorah, Purim Blast, International Student Shabbaton in NYC, Passover Seders and birthright Israel are among the many programs offered by Chabad House.
Chabad House Jewish Student Center is the address for a Kosher properly handwritten Mezuzah, Tefillin, Shabbat Candles, A Siddur and anything Jewish. It's the home for every Orange Jew.
Contact:
Rabbi Yaakov Rapoport and Chanie Rapoport (Executive Directors)
Chabad House Lubavitch
825 Ostrom Ave.
Syracuse, NY
315.424.0363
chabad@syr.edu
For a fully updated schedule, visit the Chabad House website.
Follow us on Instagram: @chabadsu
Weekly Meetings:
Weekly Friday service during fall and spring at 7 p.m.; during winter at 6 p.m., followed by free Shabbat dinner.  For more information, email rabbi@chabadsyracuse.com

 or call 315.424.0363.

Shabbat morning Minyan: Saturday, 10:30 a.m., followed by free Shabbat lunch
Chinese Christian Fellowship(心家校园团契)
Chinese Christian Fellowship shares God's love through a Chinese-speaking Christian fellowship that creates a "home away from home."
Contact:
Weekly Meetings:
Lunch, worship and Bible Study
Wednesdays from 12:00-1:30pm
Located in the Noble Room
Christian Outreach
Christian Outreach is a service-learning organization that provides community service opportunities, Bible studies, workshops, and alternative spring break trips. Our aim is to love God, serve Others and share Christ.
Contact:
Weekly Meetings:
Tuesdays, 8-9:30 p.m.
Noble Room, Hendricks Chapel
During each semester we will offer training for various types of community service and investigative Bible studies.
Christian Science College Organization
The CS Organization holds weekly meetings throughout the semester and all are welcome. The meetings are informal and consist of prayer, and readings from the Bible and Science and Health with Key to the Scriptures by Mary Baker Eddy. Participants are encouraged to discuss how the application of prayer has helped them or others during the past week.
Contact:
Weekly Meetings:
Wednesdays at 10 a.m. in the Small Chapel, lower level of Hendricks Chapel
Cru
"A caring community, passionate about connecting people to Jesus Christ."
Cru is an interdenominational group seeking to glorify Jesus. Irrespective of your religious background and regardless of where you are on your spiritual journey, we invite you to come explore life's biggest questions with us. We meet on Thursdays as a large group to worship God, listen to His Word, and enjoy each other's friendship and share what God is doing in our lives. Throughout the week we also meet in smaller groups to study the Bible and share life together. For more information, follow @syracru on Instagram.
Contact:
Weekly Meetings:
Thursdays, 8 p.m., Maxwell Auditorium
Fellowship of Christian Athletes
The Fellowship of Christian Athletes offers students, athletes, coaches and University staff an opportunity to learn more about God's love for them and how it can positively affect their daily lives.
Our weekly Tuesday meeting consists of food, relationship building and an inspiring message about knowing and growing in Christ. We also offer small group Bible studies as an additional way to develop spiritual maturity.
Contact:
Weekly Meetings:
For more information and to join the team, contact William at wpayne@fca.org.
Glorify God
Glorify God is an organization run by students seeking to glorify Jesus by representing the ideas of faith, love and hope as it is mentioned in the Bible. Our goal is to find and create opportunities for students to connect with other students on campus, as well as members of the City of Syracuse community, in ways that strengthen our faith and prepare us to share the Gospel with others.
We are founded from a range of members belonging to different church denominations and different ethnicities, but have the central idea that Jesus Christ is Our Lord and Savior. We support and encourage students to live out their faith on campus through activism, service events and worshiping Christ.
We see the spiritual needs of our campus. We seek to unite students from all different racial, ethnic and socioeconomic backgrounds in living a healthy, biblical lifestyle, as interpreted in the Christian Faith.
Contact:
Elder Melvin Baker, Historically Black Church Chaplaincy Chaplain (Advisor)
315.395.0466
msbaker@syr.edu
Hillel Jewish Student Union
The Hillel Jewish Student Union (HJSU) creates a diverse and comfortable Jewish community at Syracuse University through programming, leadership opportunities and interpersonal relationships.  The HJSU cultivates relevant and relatable programming around the arts, social justice, Israel, Jewish identity and positive Jewish role models in order to empower the current and future generations of Jewish leadership on campus.
HJSU hosts events like Passover Seder in the stadium, Israel Fest and Shabbat services (5:30 p.m.) and delicious kosher Shabbat dinners (6:15 p.m.) every Friday throughout the academic year at the Winnick Hillel Center for Jewish Life (located at 102 Walnut Place).  Shabbat with the Hillel community is a wonderful way to relax and recharge with old and new friends at the end of the week! Hillel also hosts services, meals and programming for Jewish holidays.
You can learn about all of our events, programs and leadership opportunities on our website:  www.syracusehillel.org.
And stay up-to-date with Hillel on our social media!
Instagram:  @syracusehillel
Facebook:  Syracuse Hillel
The Winnick Hillel Center for Jewish Life
102 Walnut Place
Syracuse, NY 13210
315.422.5082
hillel@syr.edu
Hindu Students Association
The Hindu Students Association (HSA) focuses on bringing Hindu culture and traditions to the Syracuse University campus. HSA seeks to foster an environment of Hindu spirituality through an open community. We host celebrations for major holidays like Diwali, Ganesh Chaturthi, and Holi.
Contact:
Impact Movement at Syracuse University
Our mission is to equip Black students to become disciples of Jesus Christ who integrate their faith into every aspect of their lives. Through evangelism, discipleship, and study of the Bible, every student involved is challenged to enthusiastically embrace and critically understand their identity as integral to the ministry of the Gospel on campus, in the community and throughout the world.
Contact:
For more information, follow us on Instagram @cuseimpact. 

Weekly Meetings:
Latter-day Saint Student Association
Our mission is to strengthen faith in Jesus Christ and support students in their efforts to live the teachings of Jesus Christ as taught by the Church of Jesus Christ of Latter-day Saints. We also seek to help students balance secular and spiritual learning, provide them with opportunities to serve those around them, and foster a sense of unity by promoting interfaith dialogue and engagement with the campus community.
Contact:
Weekly Meetings:
Thursdays, 7:30-8:30 PM, Hendricks Chapel, Strates Room
Muslim Students' Association
The Muslim Students' Association (MSA) builds and maintains a community for Muslims at Syracuse University and educates the campus community on Islam and contemporary Muslim issues.  The MSA introduces Islamic cultures, heritage and values for understanding and enriching human values.
Services offered and amenities available include a prayer room with ablution station, Friday Juma'h prayers at the Hendricks Chapel, and halal food service at Shaw dining hall.  The MSA also offers Eid dinners.
Visit the MSA website and send us a question via email at msaatsu@gmail.com.
Contact:
Mustard Seed Fellowship
Our mission is to bring together a multinational and multicultural body of students who share faith in Christ and to help them become more like Christ and become better servants of Christ.
Contact:
Weekly Meetings:
Contact hopegive@gmail.com for more information!
We also host two special events:
Semi-annual Praise and Worship
Annual Bible conference (January)
Orthodox Christian Fellowship
Contact:
Weekly Meetings:
Contact Simon Seidl at sseidl@syr.edu for information about weekly meetings and Sunday services.
Student Assembly of Interfaith Leaders
In partnership with Hendricks Chapel,
the Student Assembly of Interfaith Leaders (SAIL) intends to be a setting for students of all backgrounds, with the trust that such efforts will foster and support an inclusive, accessible campus community of opportunity for a richly diverse student body.
SAIL's primary goals are:
To serve as a model for interfaith community and cooperation
To create and sustain programs and services for the campus and for our local community
To develop interfaith leaders
To strengthen all participating religious and spiritual life groups
Function as a student advisory committee for the dean of Hendricks Chapel
Contact:
Syracuse University Pagan Association
Syracuse University's Pagan Association is SPIRAL. Student Pagan Information, Relations, and Learning (SPIRAL) provides a safe space for Pagans, Pagan-curious, and Pagan-friendly people to come together in community to discuss ideas, practice ritual, and to expand their knowledge of the many Pagan faith traditions.
Contact:
Kialey Day, Advisor
kday@esf.edu
Ren Morton, Advisor
crmorton@syr.edu