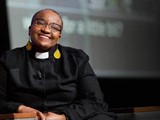 Rev. Nontombi Naomi Tutu, world-renowned advocate for truth and reconciliation, is the next guest for "Matters that Matter: A Conversation Series from Hendricks Chapel."
She will join Hendricks Chapel Dean Brian Konkol for a live virtual conversation on Thursday, Oct. 21, at 7 p.m. ET. They will discuss healing as individuals and as a society, exploring South Africa's Truth and Reconciliation Commission as a contemporary guide for hope and healing.
The virtual event can be accessed through Zoom webinar. Pre-registration is not required, and the conversation is free and available to all.
About Rev. Nontombi Naomi Tutu
Tutu is the daughter of South African anti-apartheid activist and 1984 Nobel Peace Prize laureate Archbishop Desmond Tutu. She was educated in Swaziland, the United States and England, and has served in various capacities throughout her adult life between South Africa and the United States.
Her professional experience ranges from economic development consultancies in West Africa, coordination of programs on race and gender, as well as gender-based violence prevention education at the African Gender Institute at the University of Cape Town. In addition, Tutu has taught at the University of Hartford, University of Connecticut and Brevard College in North Carolina. She served as program coordinator for the historic Race Relations Institute at Fisk University and was a part of the Institute's delegation to the World Conference Against Racism in Durban, South Africa.
As well as preaching and teaching, Tutu has established Nozizwe Consulting, which brings different groups together to learn from and celebrate their differences and acknowledge their shared humanity. As part of this work, she has led Truth and Reconciliation Workshops for groups dealing with different types of conflict.
Rev. Tutu is the recipient of four honorary doctorates from universities and colleges in the United States and Nigeria. She is an ordained clergyperson in the Episcopal Church. She is the associate rector of All Saints Episcopal Church in Beverly Hills, California.
About "Matters that Matter"
This will be the 18th installment of "Matters that Matter: A Conversation Series from Hendricks Chapel," a virtual series hosted by Hendricks Chapel that brings local, national, and global thought leaders together in conversation to discuss critical matters facing society. Learn more at chapel.syracuse.edu.
For more information, email Hendricks Chapel at chapel@syr.edu.