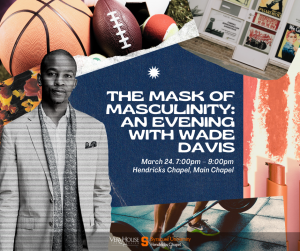 It is with great excitement that Hendricks Chapel, in partnership with the White Ribbon Campaign at Vera House, will host "The Mask of Masculinity: An Evening with Wade Davis" on Thursday March 24, from 7-9 PM in the Main Chapel. The White Ribbon Campaign invites, equips and empowers men and boys as leaders in creating and sustaining healthy relationships in households and communities. Through education, advocacy, and philanthropy, we invite White Ribbon Campaign participants to actively promise each other a world that is free of violence and abuse.
"I believe in the mission, vision and values of Vera House, and I continue to be inspired by the dedication of their staff and supporters," said Dean Brian Konkol, who has served as the co-chair of the White Ribbon Campaign for three years. "I am proud to share that Syracuse University is a longstanding contributor, and I can personally attest to the tremendous impact of such collective efforts in service to our local community and far beyond."
We are very fortunate and excited to welcome former NFL player and current Vice President at Netflix Wade Davis to our Chapel on March 24. Wade will speak on the important topic of "The Mask of Masculinity," opening our community up to an important conversation of what masculinity truly is. Wade works to engage, educate, and empower men to better understand the attitudes and actions that are most associated with aspirational masculinity. As he describes his journey, we know Wade will aid in unlocking the potential of men and boys in our community by seeking a world free from violence and abuse. 
We invite you to join us on March 24 at 7:00 pm in the Main Chapel at Hendricks to engage in Wade's talk and discover the inspirational work of Vera House and the White Ribbon Campaign. For more information on the event please find the following link HERE. 
If you have any additional questions, please contact Connor Breen '22, Student Communications Coordinator at Hendricks Chapel, at cmbreen@syr.edu or 315.443.2901.