Syracuse University's 38th Annual Rev. Dr. Martin Luther King Jr. Celebration will include, for the first time, an art exhibit in the Club 44 VIP lounge on the upper level of the JMA Wireless Dome.
To express the celebration theme of "Civil Rights and the City of Syracuse," three local artists were selected to show their works in the specially constructed gallery, which will be open to the public on Sunday, Jan. 22, 2023, before and during the traditional celebration dinner. The art gallery will open at 4:15 p.m. and the dinner will begin at 5 p.m. For more information, visit mlk.syr.edu.
The exhibition will spotlight artists Jaleel Campbell, Jessica McGhee '19 and Vanessa Johnson. Curators for the exhibition include Qiana Williams and Cjala Surratt of the Black Artists' Collective; Ken Harper, associate professor of visual communications and art curator in the S.I. Newhouse School of Public Communications; and Hendricks Chapel staff.
THE ARTISTS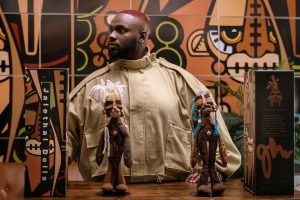 Jaleel Campbell's passion for creating knows no bounds. Whether it be through illustration work that showcases the often underrepresented, video work that captures the beauty and essence of Black life and culture, or handmade dolls that aim to honor and acknowledge African traditions, there is no limit to his creativity. "I create work that reminds Black people of their worth; even when the world becomes too heavy," he says.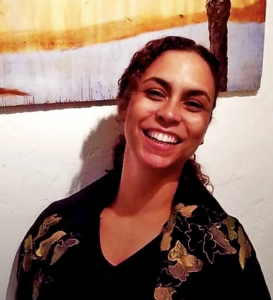 Jessica McGhee, originally from Los Angeles, California, moved to Syracuse in 2008. She earned her bachelor's degree in fine arts from Syracuse University in 2019 and is currently enrolled in the University's Creative Arts Therapy M.S. program. Her primary medium is painting, though she works in a variety of media. McGhee works therapeutically and believes strongly in art's nonverbal ability to communicate, heal and transform the self in ways that impact the overall well-being of its creator. She is currently the arts programming coordinator and an instructor at the University's La Casita Cultural Center.
Vanessa Johnson is a griot (storyteller) in the West African tradition. She is also a writer, playwright, actor, fiber artist, museum consultant, community activist, historian, educator. and teaching artist. Johnson received the Andrew W. Mellon Foundation Creatives Rebuild NY Grant for 2022-24. At Onondaga Historical Association, Johnson used her storytelling talents to tell the history of Onondaga County and she has been teaching in school programs since 2005. Presently, Johnson teaches at Syracuse University's Community Folk Art Center and is the artist-in-residence for the Matilda Joslyn Gage Foundation
"We are excited for this year's participants to celebrate the richness of Syracuse's culture and beauty…and there's no juicier way to do that than through art," says Harper, who has been on the MLK Event Planning Committee for the past three years. "We hope to expand the gallery next year to include collaborations with additional local artists, the Community Folk Art Center and the Syracuse University Art Museums."
Tickets for the dinner and program, which will include student and community group performances, presentation of the Unsung Hero Awards and a keynote address from the Rev. Phil Turner, are now available.