Syracuse Hillel is excited to welcome three new staff members joining current staff Jillian Juni and Ronen Tzadok! Rabbi Sarah Noyovitz (Rabbi Noyo) will serve as Campus Rabbi, Ian Solow-Niederman will serve as Assistant Director, and Shaina Morrel will serve as the Springboard Fellow for Social Justice.
Learn more about these new team members:
Rabbi Sarah Noyovitz, Rabbi Noyo (she/they), grew up in southern New Hampshire, where she fell in love with Judaism. She graduated from Goucher College in Baltimore with a major in psychology and a minor in music. Goucher was also where Rabbi Noyo first got involved with Hillel and Jewish text study. She went on to attend Hebrew College Rabbinical School in Newton, MA, graduating with a Master of Arts in Jewish Studies and rabbinic ordination in 2020. When she's not working to make Judaism more radically inclusive and accessible, Rabbi Noyo can be found teaching Zumba classes, playing guitar, and dreaming of having a bearded dragon.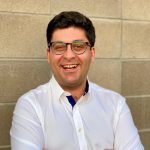 Ian Solow-Niederman (he/him) was born and raised in Denver, Colorado. He received a BA in communication, with minors in Jewish Studies and Religious Studies from the University of Colorado. As a student in Boulder he was an active leader with Hillel, Alpha Epsilon Pi, and the University. After college he cemented his love for Jewish communal work with time at AEPi's Headquarters and the American Hebrew Academy. Over 5 years as the Regional Director for BBYO in Denver he expanded membership, built partnerships, and hosted International Convention 2019. He is currently pursuing a Masters in Jewish Professional Studies from the Spertus Institute. Ian is passionate about college basketball, Taylor Swift, food, and Judaism.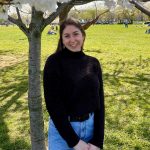 Shaina Morrel (she/her) grew up in Central Massachusetts before attending the George Washington University in Washington, DC where she studied International Affairs, focusing on culture and human rights. She grew up immersed in the Jewish community – URJ camp, NFTY, Heller High, and in college became deeply involved in GW Hillel and founded a chapter of SAEPi, a Jewish First, Greek Second sorority on campus. Along this journey, Shaina found and fostered her love for the intersections of Judaism and social justice, immersing in learning opportunities and spaces to explore these ideas. In her free time she can be found hiking, spending time with family, practicing yoga, and in the kitchen trying new vegetarian recipes. Shaina is excited to be a part of the Syracuse University and the Hillel International communities, to learn with and from the students, and create meaningful, inclusive and intersectional programming opportunities.
Learn more about Hillel at syracusehilllel.org.