By Dara Harper
In March, two of Syracuse University's religious leaders unlocked the potential of a funding grant, engaged their respective students, and built understanding around their distinctive religions.
It started when colleagues and friends Imam Amir Durić and Rabbi Ethan Bair had an idea for strengthening their chaplaincies through bringing students into their circle of friendship.
Both Bair and Durić have a history of interfaith collaboration. Rabbi Bair's earliest family memories include sharing Dec. 25 with Iranian Sufi Muslim neighbors. "We had a tradition of getting together on the 25th since it wasn't either of our holidays and we would have dinner together," reminisced Bair. "I love the idea of not just knowing your neighbors but becoming friends with your neighbors."
At Hendricks Chapel, known as the spiritual heart of Syracuse University since 1930, friendships between chaplains aren't new territory. In the mid-1990's the Jewish and Muslim chaplains shared an office on the lower level of the chapel.
The rabbi and imam no longer share an office, but Durić and Bair wanted to engage their groups in both sharing meals and partnering on service opportunities. Bair discovered a special funding opportunity through Hillel International in partnership with the Arthur Vining Davis Foundation, allowing the two groups to sponsor a meal and a service project.
If we all just live in our own bubbles, we will end up being limited and having limited impact. Connecting and collaborating with others is really what makes us better. — Imam Amir Durić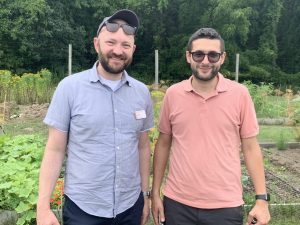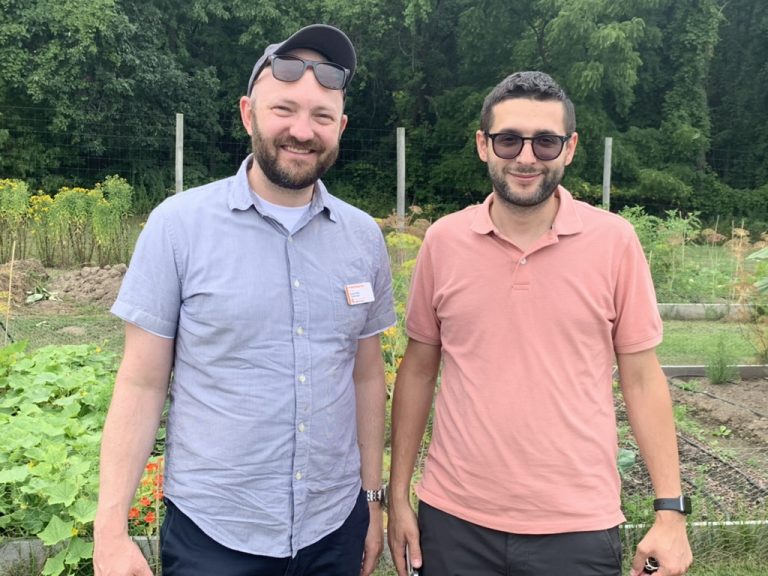 When the two religious leaders met at Hendricks Chapel's annual staff and chaplain retreat in August, Durić and Bair gravitated toward one another, discussing their chaplaincies and students. They immediately recognized commonalities and identified a path toward collaboration.
Durić joined Hendricks Chapel and the Muslim Student Life organization at Syracuse University as chaplain in 2017. Durić previously served as the Imam, Khatib, and Mu'allim for ten years: three years in Sarajevo, Bosnia and Hercegovina, and seven years in the United States, Delaware Valley-Philadelphia region.
Rabbi Bair began his tenure at Syracuse University's Hendricks Chapel and Syracuse Hillel in July of 2023, after having served as congregational rabbi in Miami Beach and as campus rabbi at the University of Southern California's Hillel center, among other positions.
As a multifaith chapel for over 90 years, Hendricks Chapel is a place where religious leaders are encouraged to work together and share common spaces, and a genuine friendship adds an extra realm of possibility. So, when the grant from Interfaith America was acquired, Durić and Bair knew they could make their ideas of bringing the students together into a reality.
A Holy Overlap
It's not every year that the Muslim Holy Month of Ramadan and Jewish Passover holy days overlap. During the Spring Semester of 2023, this was a unique opportunity for Syracuse Hillel to host a Muslim iftar (dinner) in the Hillel building. With Muslim students fasting from dawn to dusk, a catered meal at sundown was a welcome invitation. The Muslim and Jewish chaplaincies each invited 60 students to the dinner, and each had one or more student leads to help the groups connect with each other. Sadie Roberts '27, a student in the School of Architecture, worked closely with Mian Muhammad Abdul Hamid '25, who attends the School of Information Studies.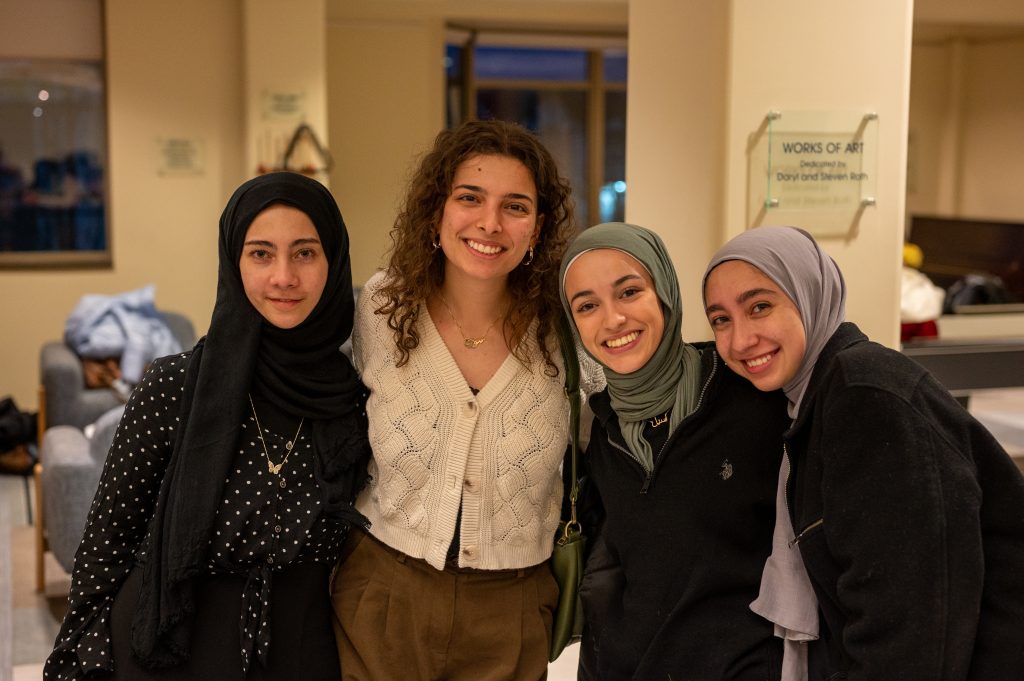 "If you show respect and you're genuine, then you'll be able to make good friends," says Hamid. In that spirit, the two students created conversation starter questions for the dinner tables and a digital quiz:
How does fasting work in each of your religions?
Do you find it difficult to balance your religion with school related
         obligations in college?
Based on the climate we live in today; how do you think religion plays a
          part in your own life or the lives of others?
What keeps you grounded in your faith?
What are some challenges you have faced due to your faith?
During the dinner those in attendance discussed how their respective fasting practices differed, and how they were similar. They discussed discriminations that they've faced because of their identities and beliefs. The students discovered more similarities than differences in their lives. Rev. Dr. Brian Konkol, dean of Hendricks Chapel at Syracuse University, states that the chapel aspires to be "a both/and place in an either/or world," and that is what the students seemed to realize at their dinner.
For Rabbi Bair, the coming together and collaboration of their chaplaincies will hopefully strengthen their students' personal faith and the entire University community.
"A big part of the purpose for me of having a strong Jewish community is to be able to partner with others: to share our culture and learn from other cultures. The values of diversity that we aspire to live with on campus can only happen when we take that extra step and reach out to co-plan events with other groups. I think that's where the magic happens," says Bair. "That night at the iftar hosted by Hillel, I walked around and saw people having some awkward conversations, some funny conversations, and seeing students getting out of their comfort zones a little bit, or maybe leaning just at the edge of their comfort. That's what it's all about for me."
The other revelation of the evening included continued dialogue around an important word that is found in both traditions. While spelled differently in Hebrew and Arabic, tzedakah/sadaqah has a similar meaning and importance to both groups. Tzedakah/Sadaqah is the concept of the responsibility of charitable giving that are tenets of both the Ramadan and Passover holy days.
"During Ramadan we are expected to boost our empathy and to strengthen our compassion," says Durić. "Community service helps with that. It is a concrete action that easily becomes part of Ramadan observance." In Muslim texts, sadaqah holds high religious importance, as it is a term that refers to wide a spectrum of giving and compassion. The term encompasses love, friendship, kindness, generosity, and religious duty.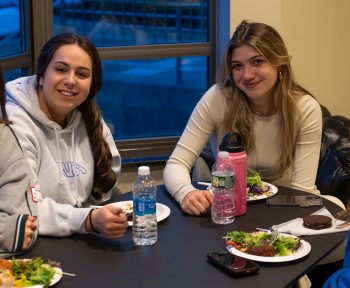 And, according to the Talmud, tzedakah is as important as all the other commandments combined. The Jewish law describes the act of giving tzedakah as mitzvah, which means a religious duty to perform a good deed.
"Passover has a message around food justice stating that all who are hungry, can come eat," says Bair. "There are also messages of inclusivity and making sure everyone of every socioeconomic status has a meal to attend."
Teaming Up to Bring Tzedakah/Sadaqah into Action
In addition to the iftar, the two groups wanted to embark upon a service project. They collectively chose to support the CNY Diaper Bank. With hundreds of dollars' worth of diapers, Durić and Bair gathered ten Muslim and ten Jewish students to package bags of diapers for parents in Central New York.
On the drive to the facility, Bair connected with Adam Baltaxe enrolled in the Maxwell School of Citizenship and Public Affairs and the College of Arts and Sciences. As a Jewish student with many Muslim friends, Baltaxe has chosen to fast during the entire month of Ramadan in solidarity with his friends.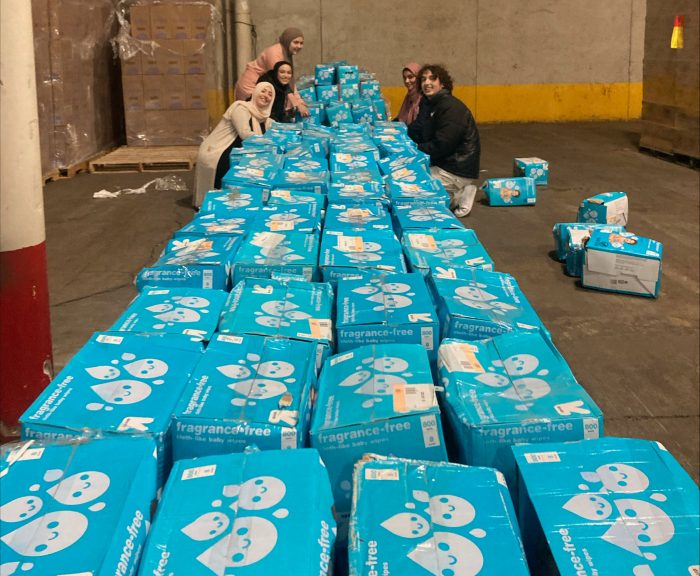 "People forget that we're all human. We're way more similar than we are different. Rabbi Bair is really bringing a new perspective toward the way we look at other cultures and other people and that takes away from the divides that are currently keeping us apart," Baltaxe says. "I mean, right now there's enough in this world that is trying to keep different groups of people apart. Imam Durić and Rabbi Bair are trying to connect multiple communities that have long histories of battling, arguing, conflict and that is really healthy. I'm very happy to reenter this space of Judaism under Rabbi Bair's leadership."
What a Friendship Between Two Religious Leaders Means to Their Students
Modeling friendship in a tense world is challenging, but when two religious leaders focus their efforts not just around collaboration or academic politeness, it is felt deeply. Their relationship is authentic, honest, open, and kind.
Durić remembers his first meeting with Bair. "Sometimes you meet a person and you feel you have known them for so long. It is personally how I felt when I met Rabbi Bair. So there is some deeper connection, I guess, on whatever level. But you feel you can do more together…and then there is that acknowledgment of who you are and your shared challenges and values. When you put all that together, it is what makes it so special. Now, planning projects and programs together is deepening that relationship," Durić says.
"Rabbi Bair and Imam Durić have such a meaningful friendship. To me it symbolizes progress and success, and it makes me proud of who I am," says Roberts.
Bair is becoming distinctly aware of the impact that their friendship has on his students. He says, "It's always good to have a friend, but when you can develop a friendship and also invite students into that circle, I think that's really special. I am very grateful to have Amir as a friend."
The Work Isn't Over
Both Bair and Durić have been asked about future collaborations between their groups. They plan to keep up the momentum by continuing to share events and service projects. The two friends continue to pave the path forward. "I think the more common ground we create together, the safer our students may feel to engage in diverse friendships and meaningful topics down the road," Bair says.