By Dara Harper
Abdul Bashir Pazhwak of Afghanistan, currently a Ph.D. student at Syracuse University's Maxwell School of Citizenship and Public Affairs, completed his Ph.D. application entirely on his iPhone while living in a German refugee camp.
On Aug. 15, 2021, Abdul Bashir Pazhwak, an Afghan diplomat, nervously sat in his office at the Afghan embassy in Cairo, Egypt. He watched on television, as so many did, the fall of the western-backed Afghan government led by President Ashraf Ghani. Pazhwak, who had been in the Afghan Foreign Service since 2008, knew that he could not work for the Taliban. He packed up a few things and catapulted himself across the Mediterranean Sea to land in a German refugee camp.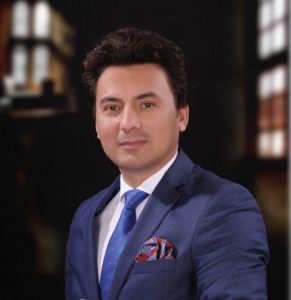 Pazhwak grew up in Northern Afghanistan and attended a Turkish school in his younger years before receiving a degree in Law and Political Science at Balkh University. Just after graduating, he entered the foreign service and trained in several countries including Hungary, Germany, Switzerland, Belgium, United Arab Emirates, Bulgaria, and more.
His first post in 2013 was as a diplomat to the Afghan embassy in Seoul, South Korea. While there, he received his master's in business administration at Sejong University. Sejong has a longstanding partnership with the Martin J. Whitman School of Management at Syracuse University, which led to Pazhwak meeting Dr. Ted Wallin.
Dr. Wallin is a professor emeritus who led the Franklin and Salzberg Supply Chain Management program at Whitman for 27 years. When Pazhwak met him, Wallin was professor and co-dean in the School of Business at Sejong University. Dr. Wallin and Pazhwak were fast friends and kept in touch when Pazhwak returned to Afghanistan in 2016.
While living and working at the foreign service in Afghanistan, Pazhwak wanted to serve young people and began teaching in local universities. He authored a book titled "Intellectual Revolution: Solutions to the Youth Social Problems" that was published in 2018. After a few years, he was posted as a diplomat in Cairo. He believed, along with many others, that he would never see the Taliban return to power in his homeland. When he saw the reports of people flocking to the airport attempting to escape, he believed he had witnessed the fate of Afghanistan. He then left his post to flee to Germany.
According to the United Nations Refugee Agency by the end of 2021, there were 3.5 million internally displaced Afghans, 2.7 million were forced across borders and lived as refugees across 98 different countries.
Pazhwak resided in a German refugee camp for a total of eight months, having never thought that, as a highly educated diplomat from an upper middle-class family, he could ever end up in such a position. As he considered his next steps and hoped for asylum, he received an important phone call: the first person to check on him and his well-being was none other than Professor Wallin, calling from Syracuse.
Dr. Wallin listened to Pazhwak's situation and immediately hatched a plan to bring him to Syracuse. He helped Pazhwak find the information needed to apply for an interdisciplinary Ph.D. program in the Social Science department of Syracuse University's Maxwell School of Citizenship and Public Affairs. Wallin checked in with his university connections at Hendricks Chapel and several Syracuse University schools and colleagues and they began a fundraising campaign to bring Pazhwak to the United States.
All Pazhwak had to do was be accepted into the Ph.D. program, which is a difficult task on its own, but living in a refugee camp and applying for school had numerous additional complications. There were no computers, no quiet spaces, no libraries. Pazhwak worked from 6 PM to 3 AM for weeks on the application. He completed the entire application on his iPhone.
Pazhwak arrived in Syracuse just before the beginning of the fall 2022 semester; and almost one year from when the Taliban overthrew the government. He is grateful to Professor Wallin and others who worked tirelessly to get him to Syracuse University.
At the same time, his own country is still in a state of disarray. After many years of women enjoying the freedom to attend school and work outside of the home, the Taliban have rescinded their early promises in 2021 to allow women's freedoms to continue. According to an article in Al Jazeera dated Dec. 22, 2022, women have been barred from their university classes, secondary schools, parks, and gyms. Women are no longer allowed to travel between cities without a male escort and must be fully covered in public.
Pazhwak hopes to use his doctoral education focused on conflict resolution, peacebuilding, negotiation, and international migration to help restore balance both for his country and himself.