The bounty of the earth, great recipes and dedicated cooks and servers make dining at Syracuse University a high point of the day for many students. Campus Connect, Lutheran Campus Ministry's student organization, helped share these resources with those in need in the Syracuse community this spring.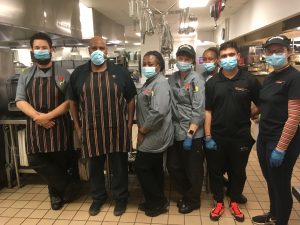 The campus chapter of Food Recovery Network, a national organization that collects unused food and delivers it to institutions that feed the hungry, was seeking to expand this semester. Shallythaw Da, Campus Connect president, wanted to help, and so she reached out to the members of her student group to get them on board. By coincidence, three of them already worked at Graham Dining Center, one of the food pick-up sites. Since then, Campus Connect has picked up and delivered food that would otherwise be thrown away from Graham nearly every night of the week.
In the dining center, volunteers wrap and weigh each pan and record the donations. Then a driver takes the food to institutions such as The Salvation Army, Rescue Mission and Vera House. The staff at Graham Dining Center have been wonderful, helping the student volunteers in countless ways. When thanked, they reply that they are very happy the food is going to people who need it.
"The first time I helped deliver food, I was very hungry looking at the delicious dishes. The second time, there were wonderful desserts that I couldn't help but look at with longing. By the third time, I had stopped thinking about my own tastebuds, and when something looks good, I'm simply excited for those who will get the chance to eat it," says Rev. Gail Riina, Lutheran Chaplain. "We will be encouraging everyone we can to volunteer. Just a little bit of time and muscle work and you know you have made a difference!"
Towards the end of the semester, Campus Connect added a Friday lunch recovery shift and the Food Recovery Network hopes to add more lunch recovery days in the fall.