By Binaka Norris '23
The music scene in Ghana is often nothing less than vibrant: songs of hope, love and joy fill the streets, vocalized by community choirs and church groups. Music weaves itself into everyday routines of Ghanaian communities, creating a melodic home for many. From this musical environment, Setnor School of Music organ faculty member Dr. Anne Laver invited Joseph Maxwell Ossei-Little to enroll in the master's degree program in Organ Performance as the inaugural Hendricks Chapel Organ Scholar. Joseph, a newlywed with a newborn son, made a solo journey from Ghana to Syracuse in August of 2022 following several pandemic and visa tribulations.
As the son of a Methodist minister, Joseph often changed schools, friends, and houses because of frequent family relocations. Through these disruptions, Joseph discovered his deep connection to music. When his school entered a regional music competition, they needed a sight-reader (a person who plays a piece at first sight) to represent them. Joseph's older brother had been chosen but was unable to compete. So, as a last resort, the church organist offered Joseph two quick organ lessons and sent him to participate. Out of 16 candidates, Joseph placed fourth. Given his impressive musical ability after just two lessons, he decided to keep practicing. As he continued moving to new locations, music remained a constant in his life. His practice sessions kept him connected to his passion for music despite his ever-changing surroundings.
While Joseph certainly had a passion for music, he also had another love—the sciences. Originally, he graduated with his bachelor's degree in pharmaceutical studies. "I really didn't have a social life because pharmacy was really packed," said Joseph. "So right after lectures I would rush over to the music department to play the organ!"
After graduation, he decided to become certified as a professional musician. He completed exams to attend the Royal College of Music in London. The Royal College of Music annually sends examiners to Ghana to hear performances. Through this process, Joseph met Samuel Kuffuor-Afriyie '20, who organized a musicians' workshop in Ghana, taught by Syracuse University faculty. At the workshop Joseph met Dr. Laver and Dr. Peppie Calvar, Associate Director of Choral Activities at Syracuse University. With the encouragement of Kuffuor-Afriyie, Laver, Calvar, and members of the Ossei-Little family, Joseph decided to pursue a master's degree in organ performance at Syracuse University. But getting to the United States proved to be an almost insurmountable challenge.
As many international students are aware, the visa process can be difficult to navigate. Joseph applied for his visa in February 2020, but due to the COVID-19 pandemic which brought travel to a stop in March 2020, his educational process was quickly halted. After applying twice for a visa, Joseph finally received approval in August 2022.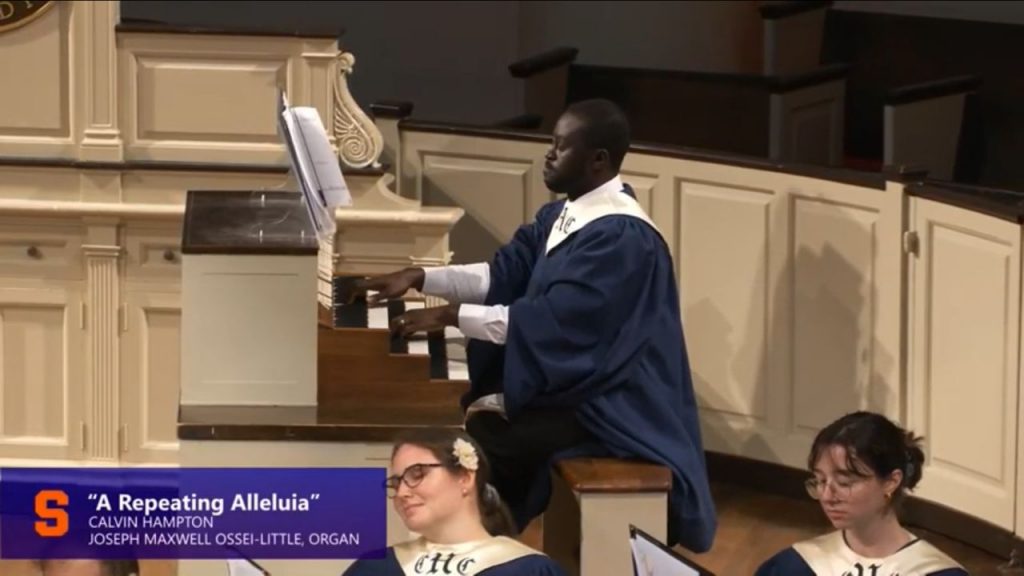 Since arriving at the Setnor School of Music, Joseph has immersed himself in both academics and campus social life, particularly through his position as the Inaugural Hendricks Chapel Organ. The inaugural Hendricks Chapel Organ Scholar is a relatively new position in which Dr. Laver, along with Dr. Calvar and others, guide students who are passionate about organ performance and expand their music skills.
"Hendricks Chapel Dean Brian Konkol agreed to create this new graduate assistantship in consultation with me to provide more support for the chapel's expanding music program, says Laver. As the inaugural Hendricks Chapel Organ Scholar, he assists the Hendricks Chapel Choir and performs at Hendricks Chapel's programs such as Holidays at Hendricks and Music & Message.
Ossei-Little says, "I've really loved singing on Sundays at Music & Message! The choir and directors really make the program amazing. After performing, you receive applause and analyze your presentation. You feel like you are on top of the world." But not everything is perfect. He has been married for just over one year and his baby son was just born. He left his new wife and baby, parents, siblings, and his job as a pharmacist back in Ghana. Despite this, Joseph remains inspired. After finishing his studies, he hopes to pioneer the first program for organ music in Ghana.
"One of my biggest dreams is to create a program for organ music in Ghana. It's really been my passion to get a program started in Ghana when I go back. I know there's a lot of talent in Ghana." Joseph has already co-founded a new association for organists in Ghana with another Syracuse alumnus, Augustine Sobeng G'21 and he hopes to work with universities in Ghana to create undergraduate programs for students in organ performance. While he hasn't worked out all the details, he explains, "The primary aim is to be able to impart all that I've learned at Syracuse University and inspire the next generation."